KWD Group AB är ett familjeföretag som ägs av familjen Nilsson, Kurt, Wiwi-Anne och Dan. KWD Production, KWD Nuclear Instruments, KWD Automation & Engineering, KWD Fastigheter och ABECE är bolag inom KWD Group. Inom koncernen finns ett brett och djupt industriellt kunnande sedan många år.
Med våra gemensamma resurser är vi en kompentent partner för effektiva industriella tekniklösningar. Bolaget startades i slutet av 1989 och familjens initialer var grunden till namnet KWD. KWD Group första affär var köpet av Precisionsmekanik i Studsvik som förvärvades från forskningsanläggningen Studsvik.
I september 1995 gjordes nästa affär när ABECE i Enstaberga förvärvades. ABECE är idag världsledande inom området maskinsystem för tillverkning av takpannor i betong. Under våren 1998 togs nästa stora steg när bolaget Hackman Wedholms förvärvades från finska industrikoncernen Hackman. Wedholms är ett av Nyköpings äldsta industriföretag och startades år 1879 av Carl August Wedholms. Under 1999 startas vårt ingenjörsföretag KWD Automation & Engineering, då under namnet Wedholms Teknik. Något år senare förvärvas KWD Nuclear Instruments från Studsvik, då under namnet Wedholm Medical.
KWD GROUP AB | Blommenhovsvägen 26, Box 1001, 611 29 Nyköping
Besöksadress: Wedholms Allé. Phone +46 155-28 03 00. Fax +46 155-28 03 46. info@kwd.se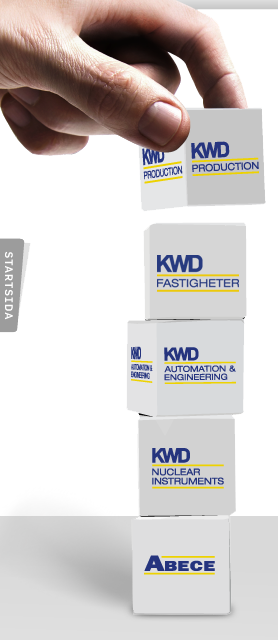 KWD Group AB is a family business owned by the Nilsson family, Kurt, Wiwi-Anne and Dan.
KWD Production, KWD Nuclear Instruments, KWD Automation & Engineering, KWD Fastigheter and ABECE are subsidiaries of KWD Group. The group contains industrial knowhow of great breadth and depth that has been built up over many years. With our common resources, we are an expert partner for efficient industrial technological solutions. The company started up at the end of 1989 and the family's initials were used to create the name KWD. KWD Group's first business transaction was the acquisition of Precisionsmekanik in Studsvik from the Studsvik research facility. The next transaction took place in September 1995, the acquisition of ABECE in Enstaberga. ABECE is now the world leader in the field of mechanical systems for the production of concrete roof tiles.
In spring 1998, the next big step was taken with the acquisition of the company Hackman Wedholms from the Finnish industrial group Hackman. Wedholms is one of Nyköping's oldest industrial companies and was started up in 1879 by Carl August Wedholms. Our engineering company KWD Automation & Engineering started up in 1999 under the name Wedholms Teknik. A few years later, KWD Nuclear Instruments was acquired from Studsvik. Its name then was Wedholm Medical.